Plain 'ol egg -- average opportunity


<! -- end rating-indicator-->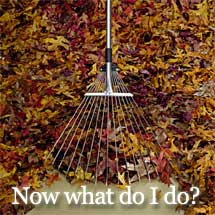 It's late autumn and it's your last chance to rake leaves from your yard before the snow arrives. Leaves have piled up in your yard and rain has already soaked them heavily. Without a super powered leaf blower and vacuum, it's pretty tough to get the damp heavy leaves into the trash bin. What a pain in the neck . . . or should I say pain in the back!
In searching for a solution, I stumbled upon the Lawn Funnel for Plastic Bags. This is a great idea.
But what about something like this for the yard trash bin? After all, in many districts, including my own in the Seattle area, we're required to put the leaves into trash bins if we want the city's garbage management to haul them away.
So, this week's startup idea is the Yard Trash Bin Funnel, an idea you can literally start in your garage.
Startup Concept – Yard Trash Bin Funnel
This startup idea is perfect startup for a home business as it can be bootstrapped with a small investment.
You can easily start by making a prototype using a cardboard. Test and tweak the design several times, engaging family, neighbors, and friends for user feedback.
Once you've figured out your product design, you'll need to find a supplier who can make it for you with plastic, sheet metal, or other material. Stay local and low volume at first to minimize risk and tweak the design as needed. Once sales ramp up, you can scale up.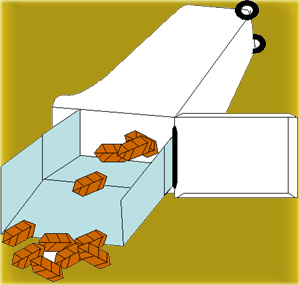 To market your product, start by selling it to your neighbors and friends, perhaps even at a discounted trial price, so that you can get testimonials. Then post the item to Ebay, while you also set up your website. Also don't forget to hit local shops in your town. Hopefully, you can source it at a few bucks per piece and sell it at $20 or more.
With your momentum built, consider hitting DRTV (direct response TV), such as the QVC or HSN channels. If DRTV is a success, you will be ready to hit the mass retail channel customers such as Home Depot and Lowes.
It sounds too easy, doesn't it? Do you remember the story of FlipFOLD, featured on the CNBC The Big Idea show with Donny Deutsch? Debbee Barker created a device so that her kids could help fold clothes. Starting with a simple cardboard prototype not long ago, Debbie and her products are now doing serious business globally, selling not only directly to consumers via her website but also to B2B customers in the apparel industry.
I can't guarantee if the Yard Trash Bin Funnel will be a success like Debbee's. But I am sure we can find more creative ideas that could help raking damp leaves in the autumn season, considering the amount of pain consumers feel every year.
Who Should Pursue This Startup Idea?
Anyone. You can even try it as a fun family project. If it does not work, it is OK. You had fun. If it works, you've got a new income stream that may be worth millions.