Great! The idea has legs!



<! -- end rating-indicator-->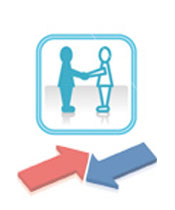 Startup Concept Summary
This is a family care-giver social networking site where care-givers can help each other by exchanging care-giving tasks.
Finding someone to help your mom on the dates / schedules you have conflicts with, while you cover the person on another occasion
Finding someone who lives in the neighborhood of your care-taker, while you help the person's care-taker who lives in your neighborhood
Finding someone who is good at the task you are not good at (e.g. lifting), while you help the person for the task the person is not good at (e.g. cooking)
This is an idea I spent a few weeks considering to start myself. Then, I discussed the idea with a number of care-givers taking care of parents. Quickly, I decided to give up on this idea, as I could not figure out how to make it a business. So let me blog on. I even bought a domain name,
http://www.care-exchange.com
, for $8.95. If you got interested in an idea, I am happy to donate this blog name to you.
Background of This Startup Idea
According to National Alliance of Caregiving's paper in April 2004, there are 44 million un-paid care-givers, 83% of which are taking care of family members. Average age of care-giver is 46 years old. It is a common challenge most of the middle age population is having. Here are some statistics of family care-givers:
48% of them have full-time jobs
60% of care-givers with employment had to make work-adjustment
67% experience physician strains and 44% emotional stress
44% of care-givers have given up their hobbies, vacations, and social activities
The recent social trend is making care-giving more challenging for family members:
Less children and aging population
Increasing geographic distance (75% of them do not live with care-takers)
Double income middle class
My ex-employer, Philips, had a great service called
Lifeline
. It is a medical alert button senior citizens can wear while they are alone at home. Senior citizens can reach a help even if they fell, away from phone. The demand to this service is exponentially increasing, and family care-givers are the active supporters of the service. The company has received so many thank you letters from family members for saving their parents in emergency.
However, beyond this, there are not many resources family care-givers can rely on. Community voluntary services do not help that much. Most family care-givers will be forced to hire a help and pay anywhere from $15/hr~ or $100/day~, depending on the situation. If you get 2 hrs help for your mom on the weekdays, that's already $600~ a month, $7,200~ a year. This is a huge burden on the middle class family income. (You can look into the caregiverneeded.com to see how much it costs to get a help in your neighborhood) And what would they do for you? Most of activities are what family members can fulfill, if they are living together. It is a lot about spending time together and helping house choirs.
Now, the importance of the statistics earlier in this post comes in. If there are 44 million people carrying out care-giving roles, I am sure one out of every 6-7 households in your neighborhood and your mom's neighborhood is experiencing the same issue with yours.
Why is it so difficult to find a help? It should be a mutual benefit to help each other. But in many cases, people are too busy to bump into neighbors, and even if they do, care-giving is a difficult topic, while chatting on the street. That's why I think online social networking site to exchange a help based on locations, skills, or schedules would be a great need.

Strategy and Tips for care-exchange.com
1) Setting up a caregiver social networking site
Setting up a social networking site seems to be easy. I only knew sites like MySpace, Friendster, Facebook and LinkedIn, but according to a list on Wiki, wow, there are a lot.
In setting up a site, I would probably hire an expert, unless you are an avid software engineer. You can go to a place like guru.com and find a help. If you are not, but still want to try yourself, I heard you can easily create one on FaceBook. I am not a software expert, so from Googling, I found a list of social networking software:
LinkedIn clone platform: PHPizabi
Typical social networking platform (incl MySpace clone script): DZOIC, Xceog social networking, AlstraSoft eFriends

Setting up a site should be do-able. Here are the challenges that made me decide not to pursue this idea.

2) Sensitivity and difficulty to enroll target users
Most care-givers, whom I talked to, showed concerns to this idea as follow:
3-way human complications: it is really difficult to explain to mom that a stranger will come and help her, and to feel comfortable to take care of the stranger's mom
They do not feel the odd is high to find someone with whom they can exchange needs, unless it becomes a major site everyone is on…
In addition, care-givers are mostly above 40 years old, and they are at this moment not the core audience of social networking or blogging. So to bring these folks into the site, it requires a significant marketing effort to 1) create awareness, and 2) create an importance to convince people it is a good idea to sign up. You need to focus on one city in one State in the early phase, call up all senior services and home health agencies in the city to get them a part of the services / networks to endorse the site and encourage care-givers to sign up. If you could not quickly achieve a critical mass in one local market, people will not come back to the site, and that is the end of the story.
3) Not clear how to make revenue….
In the first place, my idea was to help burdens of these care-givers. If we charge them, it is not very consistent with the philosophy of the proposition. The business model is limited to 1) online advertisement of care-giving related products and services (medical products, pharmaceuticals, and home health agencies), and maybe, 2) paid premium services. Do you have any other ideas?

Who Should Pursue This Startup Idea?
If you had the past experience of setting up any social networking site, you got a skill to get this service up very quickly. You would like to find someone in the Senior Service industry to implement the functionalities right. Also you would like to involve a few friends who are struggling with care-giving as the test users in the initial phase.
Good luck!