Plain 'ol egg -- average opportunity


<! -- end rating-indicator-->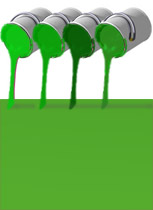 Startup Concept Summary
I've had it! I do not want to buy anymore paint! I have already tried three shades of green paint on my living room wall, and have spent $8 for each 32oz can, for a total of $24. And I still can not find the right shade that works in the room. And I searched high and low for smaller paint samplers at my nearest Home Depot store, but none were to be found. Only Behr sells 8 oz. samples, but online for $7, and they add a whopping shipping cost of $8 on top! With only the paper strips printed in shades of "Serengeti Green", "Zen Mist" and "Apple Green", there's not much hope for really finding the right color match.
Hence, I introduce the new business concept of Wall Paint Sampler Set , which allows you to try out different paints on your wall to find:
Each set contains 8 shades of the theme color in 4 oz. tin cans
Each set is priced at $24
Your product line consists of four sets of color themes (blue theme, red theme, green theme and yellow theme)
Sell at Home Dept and market through every possible wall painting blog site you can find….
Background of Wall Paint Sampler Set Concept
I tried out "every" sample color strip and sticker on my wall. But when I applied the real paint, it looked different. I then tried out all the software features on the Behr and Glidden manufacturer websites. However, I soon learned that any color looks good on a PC screen, but that doesn't mean it'll look good on my wall. Look at the picture of what is going on in my place.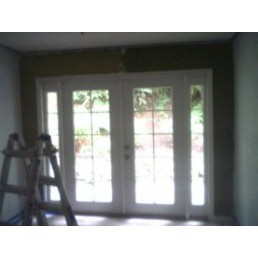 Now it is getting wet in Washington State. I guess I will live like this until next Spring.
It seems this is a common problem. I found so many blog sites talking about the challenge of color coordination. There are a number of service providers who claim they can help you select the right colors, but I can't afford to hire them. Every time I go to Home Depot, other customers ask me questions with multiple color strips in hand, "Which shade of blue do you think works best?" I dunno.
I think the reason why Behr and Home Depot do not offer samples is because they do not want the trouble of packing so many small cans. But I do not think we need samples for every color. Even a sample set of 8 variations within one color theme (e.g. green) would help me see what works and what does not, e.g. lighter v.s. darker, more yellow v.s. more blue. I am happy to pay $20-30 for such a set, because I am already wasting so much money and time, going back and forth to the store.
Strategy and Tips for This Startup Idea - Wall Paint Sampler
1) Product repackaging
Basically, this idea is all about product repackaging. You purchase paint in a 1 gallon bucket or bigger, and then repackage it into small 4 oz. metal tin cans. And then, you bundled 8 of the 4 oz. cans with different color variations into a single package.

2) Marketing
Posting a web site is quite appropriate for this idea, with particular focus on search engine optimization. Google ads are also a good option. You should also market to every one of a long list of blog sites, home color consultant sites and paint store sites.
And of course, the ultimate goal is to have your sampler sets carried by Home Dept or Lowe's.

3) Potential challenge of this startup concept
You probably need to become a reseller of Behr, Gidden, or Sherwin-Williams to be able to sell your sampler sets with their brand names. If you can not mention their brand names, then, the sample sets would not sell. You need to propose this idea to them, and propose yourself to be the distributor of this sampler set product lines.
Would this kill the potential for you to pursue this idea? It may not. In many cases, big corporations do not pursue these peripheral ideas that do not bring tens of millions of dollars to them. It creates overhead and complexities to the corporate hierarchies. But for you, you would be happy with a few million dollars in revenues, wouldn't you? If you take care of all the logistical troubles, they may allow you to pursue this idea. They may want you to be an exclusive repackager to their brand only. This would be just fine. The economics work well even with just one brand.

Potential Financial Rewards
Cost side: $11 per set
1 gallon / 4 oz. = 32 sets from 1 gallon
$20 for 1 gallon / 32 sets * 8 colors = $5 paint per set
Small metal tin can $0.5 * 8 tin cans = $4 cans per set
Overall packaging = $2 per set
Price side: $24 per set
If you could sell 50,000 online, you can make $1.2 million in revenues.
Going to retailers may make your numbers look less attractive, because retailers would ask for a slice off your margin. Let's assume the retail purchase price is $16, and there are 3,500 Home Depot or Lowe's. Every time I got to Home Depot, I bump into at least 2-3 people having troubles choosing paint color. So let's say 1 store can sell 200 sampler sets per store per year. That gives you 700,000 units * $16 = $9.8 million revenues. The hope is at that point, with a volume discount on paint as well as metal tin cans, your margin is significantly better with $5-6 cost per set.
If you could minimize costs like fulfillment, marketing, sales, and inventory management, you can probably make decent money.

Who Should Pursue This Startup Idea?
People who are in the paint business or home remodeling business, for sure. Some knowledge of chemical product packaging would be useful.
Please give me a call if you will start this business, I will be your first customer.