Great! The idea has legs!



<! -- end rating-indicator-->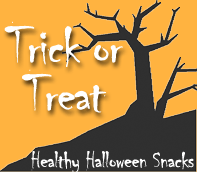 Background of This Idea
"Trick or treat, smell my feet, give me something good to eat!" Don't mind the "feet" part of this rhyme for now, but let's do give the kids something good to eat this coming Halloween. But what's "good"?

As a health food freak, I don't like the idea of loading kids with Hershey's chocolate bars or Kit-Kat bars (though they indeed are yummy). At the same time, I don't want to see disappointed faces when I give out crackers and fruits. So this year, I am thinking about the well-proven business idea called repackaging.
Trick'em with healthy snacks and treat'em with imagination.
Let's see if this article inspires you (or tricks you) into starting a new home business that may have legs.
My Bag of Tricks
This year for Halloween, I am planning to put together healthy snacks packaged in a packet with creepy graphics pulled from the internet.
It's uncanny, isn't it, how Mother Nature creates healthy edibles that can look like creepy objects when combined with imagination:
Cockroaches - dried dates

Eyeballs - black olive put into round-shaped cheese
More eyeballs - green olives with tomato in them
Mice brains - walnuts (dipped in jam)
Bat stomachs - dried apricots
Blood sauce - tomato ketchup
Rat bones - pretzel sticks
Fingers - cheese sticks cut in the shape of fingers
Finger nails - dried garlic flakes
Let's pack all of these goodies into a a little box, inscribed with the words "Body parts inside! Eat'em if you dare."
Candy & Snacks Home Business Opportunity
Candy & Snacks is a great way to start a home business, leveraging your own creativity to the max. Visit the All Candy Expo, the biggest snack trade show in the US, and you'll meet 15,000 other small and home businesses showing off their own unique propositions.
Sahale Snacks, my favorite hiking nut mix, is one example of a home-grown snack businesses that knew how to successfully get into the mass retail channel. Sahale Snacks combines 100% organic nuts with an interesting blend of spices, and was started in my Washington State neighborhood by two guys who got this idea while hiking up Mount Rainier. Read about their story here.
Halloween can be a great opportunity for you to utilize your creativity to tap into this market. According to the ToyDirectory.com, novelty toy candy has become one of the fastest-growing segments in the $23 billion U.S. candy market. No surprise, most sales occur around Halloween. In fact, creative trick or treat candies run galore at CandyWarehouse, including gummy earth worms, eyeball chocolates, and fake bandage with sweet blood syrup.
Commercialized Healthy Halloween Snacks
A Google search on healthy Halloween trick or treats reveals concerns about traditional sugar-loaded treats, and a call for healthier alternatives. Nutritionist Joy Bauer admonishes "the amount of sugar our kids consume on October 31 can be downright mind boggling." It's no wonder blogger Nathalie Lussier exclaims "It's high time for us to start taking a look at the Healthy Halloween Options for Treats, to ensure the safety and the health of our children."

Despite growing consumer interest in the subject, commercially available healthy choices for Halloween treats seem limited. Few talk about repackaging healthy foods creatively as "fun, scary foods". I can't find a product like bone-shaped pretzel sticks in the grocery store or online, for example.
So, an opportunity may exist for you to start a new business category of Healthy Tricks and Treats.
The key to success lies in finding a supplier who can help you make your treats look more realistic, e.g. real bone shaped pretzel sticks, finger cheese with tomato paste inside, etc. If you can do this, I think you can capture the wallets a lot of health conscious parents and neighbors.
How to Manage a Seasonal Business
1) Capital Investment
Sales demand will likely focus on the month before Halloween. As a small home business, you would not want to invest into an infrastructure that is utilized only one month a year. Thus, outsourcing is required (unless you think you can produce everything yourself in house and follow all ordinances for hygiene and food safety).
In the early startup phase, you should leverage off-the-shelf supplies as much as possible. Visit the previously mentioned Expo, find your inspiration, and see if you can get supplies from exhibitors.
To further avoid capital investment, you can also utilize private label repacking firms.
2) Seasonal Listing with the Mass Retailers
To distribute your Halloween healthy tricks or treats, tap into the long list of online players for Halloween products. Send your products to health conscious bloggers. Talk to your local stores.
And, of course, approach mass retailers. Many mass retailers expand their shelf space for candies and other seasonal products during the Halloween season. Sometimes, they set up special seasonal sales islands for Halloween goods. During this time, they are much more open to list new and unusual items. This may be a golden opportunity for you to slip into the mass market. Make sure to also read Six Tips for Getting Your Product into the Mass Retail Channel.
Beyond Your Seasonal Business
Once you succeed in building your seasonal business, you can further expand your position into the general health novelty market. If you succeed in obtaining seasonal listings with mass retailers, you'll be in good shape to build your business in the healthy novelty snack industry throughout the year. Your business, which started with a tens of thousands of dollars in revenues, may end up growing to hundreds of thousands of dollars, or maybe even millions.
Who Should Pursue This Startup Idea?
Anyone can start this startup idea as a home business. I like this concept because of its low barrier to entry compared to other ideas I have written about so far. It's all about creative R&D, and leveraging smart suppliers, and sweet talking your products into the local and online distributors, and the mass retail channel. But before you start, let's see if kids in my neighborhood approve this idea! Is it a trick or treat?