Plain 'ol egg -- average opportunity


<! -- end rating-indicator-->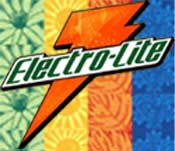 Startup Concept Summary
- For the health-conscious person who exercises now and then
- Electro-Lite will replenishes electrolytes to your body without adding all the sugar.
- Attack poor positioning of Gatorade and other sports drink, by emphasizing "diet" and "electrolyte"
- Follow Odwalla's business building approach from your local area
- Get acquired by Coca-Cola one day

Background of This Diet Sports Drink Startup Idea
It sounds strange - - is not sport drink healthy and weight conscious? Actually it is not. I live in the Washington state, and hike mountains in this area all the time. Particularly on the hot summer day, climbing steep slopes, I consume so much water. I used to bring Gatorade with me. It is a typical sport drink, and I thought it would help me to replenish water faster. After a few weeks of bringing Gatorade with me every time I go hiking, I noticed that I am gaining weight.
So I checked on the label of Gatorade, and am surprised with the amount of sugar it contains. I also checked other sports drink or sports drink alternative brands both at a normally grocery store as well as at Whole Food:



United States Department of Agriculture (USDA) advises adults who eat a 2,000-calorie diet to limit consumption of sugar to about 40 grams (10 teaspoons) of added sugars per day. One hour of hiking can consume around ~300 calories. So by drinking one 32Oz of Gatorade after an hour of exercise, we have just supplemented most of the calories we just burned.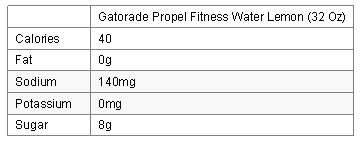 So is there an alternative? Well, kind of. Gatorade launched Propel Fitness Water in 2000, for people who would like to avoid excessive sugar intake. Now it does not contain too much sugar, but it does not refill much of the electrolyte you lost, either. The reason why you drink sports drink after exercise is because you need to refill electrolyte which water do not replenish.
So there's definitely an opportunity for a sports drink between Gatorade and Propel Fitness Water.
Strategy and Tips for This Beverage Startup Idea
1) Positioning of this new concept
What makes this successful is all about positioning. In beverage industry, what the bottle contains is not that important. It is all about the attractive appearance and marketing message.
The marketing positioning of Gatorade Propel is not very clear against original Gatorade. Obviously, they are trying to defend original Gatorade and positioning original Gatorade as a recommended drink.
People who exercise are likely diet conscious. So why don't we just position a diet version? Also why don't we just directly position for electrolyte replenishment? Hence, I name this product….
Diet sports drink
Electro-Lite
This would attack all the sports drinks on the store shelf immediately.

2) Bottling
How do we make it? By googling, within a minute, I found a player that does private label energy and sports drink manufacturing - LiQuid-ADZ. Also I found a private label drink provider for a fresh fruit juice production. Clement Papas
If they are not the right ones, there are a number of local bottlers you may find on this directory.


3) Finding a sports drink channel
You can start from a local store chain, healthy store chain like Whole Food or sports store chain like REI. You should approach a number of stores before you start manufacturing. Local fitness clubs may be a good target as well to help their positioning as diet conscious.
I thought may be how Odwalla started their business could be a good hint to start this business. Here is what Odwalla says in the company history section of their website: "With a used $200 hand-juicer and a few boxes of oranges, three friends, Greg Steltenpohl, Gerry Percy, and Bonnie Bassett squeezed fresh juice in a shed behind their house and delivered it to local restaurants in their Volkswagen vans. The first day of business they juiced just one box of oranges. With the profits from that day's sales, they were able to buy two boxes of oranges the next day, and so Odwalla began."
So, don't shoot too big from the beginning. If the products have the right positioning, you will be able to make it.

Can We Make Money From This Diet Sports Drink Concept?
Gatorade 32Oz costs $1.69 per bottle in QFC store. Let's say we price our Diet Sports Drink, Electro-lite at $1.5 per bottle. With 1 sport club chain with 20 location as a customer, your financial will be…
$1.5 per bottle * (1-30% margins for the chain) * 20 bottles a day * 20 locations * 300 days = $126K revenues a year * 20% margin for yourself = $25.2K
OK, this is just a start. Hopefully, you will get a few more fitness club chains, and few more local grocery store chains. When you notice, your revenues grew more than a few million dollars. Then, the next thing to happen is an acquisition offer from Coca-Cola.

Who Should Pursue This Startup Idea?
If you are a marketer in any of these commercial beverage and food companies like Coca-Cola, Pepsi, and Del Monte, you are well equipped. Why do you slave yourself in the corporate ladder, while you can actually build your own?