Baby Care & Pet Care
You can start counting your chickens!


<! -- end rating-indicator-->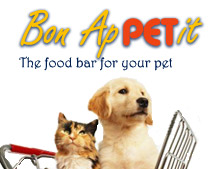 Today, we love doggies and kitties more than ever, and treat them like we treat ourselves. Take a look around. There are now stores that specialize on selling clothes for pets. There are even stores that sell sofas for pets. Pay attention to TV commercials, and you see growing number of them advertising organic pet food. So I ask, why not also fresh food bar for your pets, as you yourself like the salad bars, buffets, and delis? Imagine taking your doggie on a shopping spree . . . No, I'm talking about for your pooch! Let her taste a few delicious morsels here and there, and then let her pick a few "to go". Or, should I say, "Let's put one in the doggie bag for ya, buddy".
This pet food bar, Bon apPETit, can be a booth in grocery store, an independent store on a busy street, or even a stand in the park where people take their doggies. You will run the franchise operation by supplying, branding, marketing, as well as developing the ingredients, operational equipment, and protocol for your franchisees. Addressing >100 million pet owners in the US, your dream of IPO may not be entirely unrealistic. Please read my full post for more details.