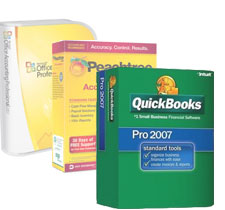 I am often asked by those seeking to start their own businesses what software I use for managing customer orders and accounting for my own online business. Disappointingly, few software packages offer the ideal balance between 100% full customizable functionality and cost, at least for those on a shoestring budget. However, three come close: Quickbooks Pro (or Premium or Enterprise editions) by Intuit, Peachtree Complete Accounting by Sage Software, and Microsoft Office Accounting Professional. Of these three, my software of choice is Quickbooks Pro.
There a number of articles on the web that review each of these three products. So, rather than regurgitate detailed reviews, let's dive into the primary reason why I use Quickbooks. Perhaps, it's the only reason any small business owner actually needs to consider.
Choosing Quickbooks was a monopolistic no-brainer
Believe it or not, I chose Quickbooks for my business without doing any detailed comparison of features among the candidates. I chose Quickbooks simply by the fact that Quickbooks has something like 87% market share in small business accounting software.
Does that mean that marketing hype got the best of me? Or that a coming monopoly in the sector trapped me? No, but kinda.
The shear fact Quickbooks dominates the market means that more online storefront software and partners integrate smoothly with my customer and accounting system. Out of the box, for example, Quickbooks allows me to print FedEx and UPS straight off of customer receipts and invoices—a true time-saver. Similarly, Quickbook's market strength attracts a large number third-party developers, who sell optional plug-ins that give you additional advanced features for managing inventory reports, doing ecommerce, processing credit cards, banking, and more. Last I counted, there were over 400 such plug-ins available.
Last but not least, dominate market share means that most accountants know Quickbooks well. In preparing taxes, all you may need to do is email your accountant your Quickbooks file.
Being a penny-wise small business geek, forgoing detailed comparison shopping of available small business account software was an unusual step for me. However, to date, I have not had any regrets.

A word or two on Peachtree and Microsoft
While the "monopolistic" reason above may be reason enough to choose Quickbooks, there some distinguishing features worth noting in Peachtree and Microsoft.
Peachtree' strength lies in its inventory management, especially for manufacturers. Unlike Quickbooks, Peachtree lets you create advanced sub-assemblies that can consist of up to 300 components. If you need detailed inventory capabilities, Peachtree may be the better way to go.
Not surprisingly, Microsoft Office Accounting touts smooth integration with its Microsoft Office applications such as Word, Excel, and Outlook. However, the number of features and add-ins pales in comparison to those available for Quickbooks and Peachtree, and integration works only with Microsoft Office 2007 and above.
Notwithstanding the differences, Quickbooks, Peachtree, and Microsoft Office Accounting will do the basic functions you need:

Manage customer and vendor account information
Create and print receipts, invoices
Keep track of inventory
Produce financial reports
Handle employee payroll (additional software license required)
Manufacturer List Price
Targeted to small businesses with 1-20 employees

QuickBooks: Simple Start Edition 2007 — $99.95
QuickBooks: Pro Edition 2007 — $199.95
QuickBooks: Pro Edition 2007 (three-user) — $499.95
QuickBooks: Premier Edition — $399.95
QuickBooks: Premier Edition (five-user) — $399.95

Peachtree Pro Accounting 2007 — $169.99
Peachtree Complete Accounting 2007 — $269.99
Peachtree Premium Accounting 2007 — $499.99
Complete and Premium Accounting (five-user) — $699.99
Complete and Premium Accounting (multi-user) — $1099.99
Microsoft Accounting Express — free download
Microsoft Accounting Professional 2007 upgrade — $149.99
Targeted to small businesses with 20+ employees

QuickBooks Enterprise Solutions (five-user) — $3,000
Peachtree Quantum — $3,750
See more practical business tips.