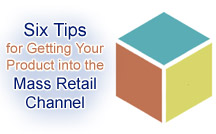 Imagine this. A mass retailer had decided to stock your product! The product launch date became the best day of your life. But after the euphoria of only a few short-lived months, the retailer decided to de-list your product. You are left with inventory and debt, making it the worst day of your life.
There are so many ways to screw up your launch. Product packaging is one of the most important factors for a successful launch. Ugly looking or confusing packaging generally doesn't sell. If users don't like it, retailers won't like it.
In this 5th article from my series of Six Tips for Getting Your Product into the Mass Retail Channel, I would like to discuss product packaging that can make your launch in the mass retailer channel successful.

Product packaging matters
The other day, I was talking with the founders of a small startup that had finally launched its product into one of the mass retailers, after years of great effort. I got very concerned when I saw their packaging.
Their packaging had a noisy color scheme, and on top of that, they had so many words in the tiny font. It was not clear what the product does. Furthermore, the packaging material was low quality and it looked like a product you might find in a clearance sale at your old local general store.
For any new product from a small startup, shelf presence within the mass retailer is your best advertisement opportunity. Shelf presence gives you the frequent exposure to consumers at the moment of their purchasing decision.
You would like consumers to notice your product when they are passing by. You would like consumers to take your product seriously. If you put a package that looks unofficial or cheap next to a beautifully branded product from P&G, do you really think the consumer will pick up yours?
And even if they decide to buy your product, its package will sit in the consumer's home, where it will continue to create an permanent impression for your product.

Successful product packaging
Typical consumer behavior in the retail store consists of scanning for products. Consumers often come to a store with a few items in mind, but are usually not clear about their other needs. Thus, as they rush through the aisles, they scan shelves to see if there's anything else they should be buying.
Given this scanning behavior, successful product packaging should demonstrate the following characteristics:
Have visuals that attract attention
Create a clear focal point for consumers to know immediately what the product is
Be differentiated from competitors
Support brand positioning that is appropriate to the product
Work consistency with all your other branding activities
How would you design your product package to satisfy the above characteristics?
The first thing you need to think about is your brand color. You'll want to create your signature color so that it that appeals to consumers passing by. To select your color, here are things to think about:
What color stands for the benefit you trying to deliver to your consumers
What colors do your competitors use
Can you coordinate different colors to make the package easy to understand, while highlighting your main brand color
The next to think about is the layout of your product package. The consumers' eyes should naturally travel along the communication of your package.
You may want to test your package communication with your friends to see what layout is easier for them to read through. Let them scan the product for 15 seconds, just as a consumer might do. If your friends cannot explain what the product is about, what the benefit is, and why they should buy it, you've got serious work to do.
Finally, you should confirm the packaging requirements of the mass retailer where you are going to launch products. They may want specific sizing or specific color schemes. Sometimes, they may suggest you to use certain material, e.g. transparent material for consumers to see what is inside. Your product packaging strategy has to work within the requirements of the retailer.

Summary of Learnings
Product packaging is the biggest marketing tool for a small startup that wants to succeed on their first launch in the mass retail channel. Make sure to have an attractive, eye-catching, and easily understood communication on your well-branded package.
See more practical business tips.