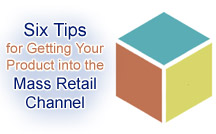 The first tip from my series of Six Tips for Getting Your Product into the Mass Retail Channel is that you know your potential customer, meaning the mass retailer in this case. Jumping to this step assumes, of course, you already know the ins and out of your own product and end-consumer.
Who is the Customer?
You're probably already familiar with the types of mass retailers. But let's look at the sampling below so we share the same distinctions.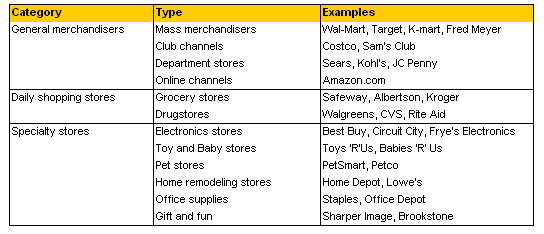 What Drives Retailers to Entrepreneurs?
The various types of retailers differ in terms of their product portfolio, store network, store size, target consumer, and overall strategic approach. These differences motivate their responsiveness to small business owners wishing to introduce products to the mass retailer.

1) Retailer Type: Generalist vs. Specialist
General merchandisers carry broad categories of products from groceries, drugs, home appliances, clothes, to personal care, etc. Due to limited shelf space, they rarely carry more than 3 to 4 brands per product category. Thus, they favor proven brands, and seldom take entrepreneurs on board early on.
Specialty stores, on the other hand, strive to be the destination for selectively targeted consumers who seek specialty products. Hence, specialty stores carry as many brands as possible of the same category. As such, entrepreneurs have a much better chance starting here.

2) Consumer Destination Behavior: Convenience vs. Planned
Consumers decide where to shop based on convenience or "planned shopping" trips. Not surprisingly, retail channels focus on this behavioral dichotomy. So, the entrepreneur should pay attention.
Large conveniently-located networks of stores, such as drug and grocery store chains, usually have small footage per location. With 60,000+ stores in the US alone, they focus on the daily shopping needs of consumers, relying the frequency of consumer visits and impulse shopping to maximize profit. Such retailers favor a smaller package size and low price point, and seldom carry products priced more than $100.
General merchandisers like Wal-Mart, Costco, and Sears focus on shoppers with "planned" visits. They have mammoth floor space per store, but utilize a smaller network of stores than convenience retailers do (<10,000 stores). These stores carry large package sizes, and often more expensive items as well.
Specialty stores also fall into the category of the "planned shopping" destination. While their network of stores remains small, the target consumer has well-defined needs and price points.
As a small business owner, you should think about how your new product fits into the overall mode of operation and strategy of each type of mass retailer.

3) Demographics of the Target Consumer based on the Retailer's Product Specialty
Obviously, you'll want to pitch products that benefit the target consumer of retailer's product specialty. This increases your chances of getting your product accepted.
For example, what consumer would more likely come to Frye's Electronics? Young male consumers who are electronics geeks. Who would more likely come to drugstores? Senior citizens with chronic medical conditions. How about Toys"R"Us? Young women with kids or with friends with kids.
Note, however, that retailers often carry products beyond their specialty. I was amused, for instance, to find the book Tax Savvy for Small Business: Year-Round Tax Strategies to Save You Money 9th Edition
near the cashier counter at Frye's Electronics. I guess this retailer bets many of its geeky electronics customers have a small internet business.

4) Demographics of the Retailer's Strategic Target Consumer
Even retailers of the same category may target different consumer segments. The battle between Wal-Mart and Target is a well-known example of this.
Wal-Mart targets the middle-class American, with their touted "everyday low price" model. Even their new "save money, live better" tagline is essentially all about low price. If you have a chance to work with Wal-Mart buyers, one of their first questions to you will be, "what is your opening price?" Wal-Mart would give you brownie points for helping them lower the lowest price point in the product category.
On the other hand, Target aims for more affluent consumers. Target spends more money in store appearance, and carries more premium SKUs in each category.

5) Online Presence of the Retailer
Fixed capital is much lower for online formats than for offline store formats. As such online channels generally have more leeway to add new products from your small business. They may carry inventory of your product in their warehouse or simply ask you to drop ship to their end-consumer. Many mass retailers have both an online and an offline business. So think about how which you would like to approach first.

Getting Started
With an understanding of the needs of each channel, how do you get started on pitching to a retailer?

First, study the channels that seem to fit your proposition. Learn about all other products within the same product category carried by each channel, and understand how your product compares. Then, optimize your proposition.

Create a compelling story why your product fits the retailer. Then prepare a letter and presentation to your target retailers.

Don't waste time repeating approaches to retailers that do not fit your proposition. If they do not respond after a few attempts, it is not your fault. Just move on.

See more practical business tips.