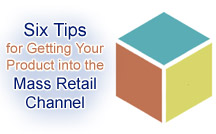 There's seldom a second chance. You should not approach your mass retailer buyer if you are not ready to do business.
Entrepreneurs often excitingly send proposals to their key buyers only to never hear back from them. When they then try to catch their buyers on phone, they can't reach them. Such entrepreneurs often feel left in the dark with uneasy disappointment. What did they do wrong? What's the better way to win over the buyers?
In this fourth article from my series of Six Tips for Getting Your Product into the Mass Retail Channel, I would like to introduce the mass retailer buyer, and how to approach them.
Who Are the Mass Retail Buyers
Mass retail buyers are in charge of purchasing and managing products from multiple manufacturers within their specific category of expertise.
If you want to know which buyer in the mass retailer to approach, go and check out the store layout. The retailer buyer organization tends to mirror the store category layout organization.
Let's take my SUV ultimate shower tile cleaner idea as an example. The buyer you need to meet is likely in charge of the home cleaning category, which would include bathroom cleaning, kitchen cleaning, and floor cleaning. Club channel buyers tend to manage a larger scope, and may include laundry products as well. Drug store buyers look after an even larger scope and multiple categories.
Buyers often deal with thousands of SKUs (stock keeping units). As discussed in my article "Know Your Key Performance Indicators (KPIs) to Get Into Mass Retailers", buyers are all evaluated by their bosses on how much dollar revenue and margin they deliver per square foot of shelf space they manage.
So, you can imagine just how busy buyers are as they optimize the KPIs across their product portfolio.
Below is a snippet of the work week for each mass retailer buyers:

Review and decide product portfolio for their shelves
Optimize pricing portfolio for each product segment
Decide shelf allocation and presentation of all SKUs (1000s of them)
Decide promotion strategy and plan
Communicate their plans with stores
Visit stores to make sure their plan is implemented appropriately
Track the performance of each SKU, and report it to their bosses
Review sales data trends and evaluate the drivers (e.g. ads, seasonality, regional differences, consumer segments, social trends, economic trends)
Work with multiple of suppliers, old and new
Trouble shoot logistics issues with their suppliers
How Do You Approach Your Buyer
We entrepreneurs spend day and night thinking about our new one-trick-pony proposition. A buyer will spend only 30 minutes on your idea. Passing up on your great proposition seldom hurts their business since yours is just of one thousands from which they can select.
So, be ready to make business happen on that spot. Never try a "getting to know each other" approach. That's absolutely against their life ambition and essence.
Be clear about and ready to answer:


What is your price point?
When can you launch? (if possible, you should be able launch anytime the buyer requests)
What is your advertising plan and budget?
What does your package look like? How is your labeling? Do you have multi-lingual packaging in Spanish?
Have you gotten all necessary approvals from the FDA, etc?
What is your service policy any warrantees to the end-user?
What is your return policy with customers?
What is your expected demand?
What is your manufacturing capacity?
If you are not ready to answer the above questions, do not approach the buyer yet.
Don't miss your appointment, or try to negotiate the appoint date. If your buyer wants to meet the next day or on a Saturday, that's the date. If you miss it once, you'll have missed it forever. I learned this the hard way. I once tried to reschedule a phone call. I never heard back from the buyer.
Avoid story telling in the meeting. Get to the point quickly. What is your product? What is the price point? If you have not optimized your proposition, they will immediately know it. Don't waste 15 minutes of your limited 30 minutes meeting on nice stories.
Avoid long presentation material. Retailers want to see the data on consumer needs and traction on your business proposition. Limit such data to a few pages and key points.
Summary Learning
There's seldom a second chance. Be ready to do a business. Get to the point quickly.

See more practical business tips.