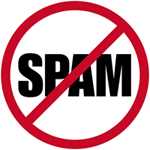 About a year ago, my small business was getting about 100 to 150 spam messages in each of our email accounts every day. These days, we're getting about 1 to 2 spam messages on a bad day. Most days, it's none at all.
I won't go into how spam slows down your email server, kills your productivity, or is plain old offensive. We've all become too familiar with seeing flashes of "LegalRX Free Meds" and "ViA*gRa", "Cheap Rolex and Cartier", and the ilk! Instead, I would like share with you some tricks I used to stop spam almost completely.
Fighting spam is serious business. It's something you and your business can't afford to ignore. While there are many anti-spam services you can purchase, I found it is quite possible to stop spam rather effectively by combining several quick, easy anti-spamming methods that don't cost anything at all but a few minutes of your time.
In a series of Five Tips on How to Stop Spam Effectively here, we're going to build an arsenal and bulwark that will stop spam from infiltrating your business.
The Tips:
Tip 1: Stop Spam by Routing Your Email Through an Anonymous Gmail Account
Tip 2:
Tip 3:
Tip 4:
Tip 5:

See more practical business tips.