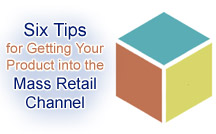 This is the last article of the series of Six Tips for Getting Your Product into the Mass Retail Channel. I would like to discuss the last and biggest challenge of getting your product into the mass retail channel – the launch coordination.
Once it gets close to the launch date, your business will be involving a number of different players. Component manufactures, a system manufacturer, a packager, a freight service, a warehouse, an agency to manage local promotional media, etc. You may be managing a small internal team composed of customer services, supply chain management, and marketing.
The more parties are involved, the more likely you will find the last minute glitch to kill your launch.
Here is the list of common issues that kill your awaited launch.
Quality issue: 5 weeks before the launch date, your manufacturer could not have figured the product defect issue. You may need to manually fix all products to make them work, or the worst case, you have to delay your launch (or no more launch)
Missing item: 4 weeks before the launch date, you hear from a packager that it is not receiving one item that needs to go into the package. It often happens with one-off items that are not the part of the main system of your product, for example, a holder or a plastic cap, or things like that. Somehow, suppliers never realized that it is the confirmed order. You have to decide if you go without it, or find alternative and sub-optimal supplies, or the worst case, you have to delay your launch (or no more launch)
Wrong packaging label: 3 weeks before the launch date, you realized there's wrong information on your package. Now you have to decide if you need to re-do the packaging or if you need to attach a correction stamp on top of the existing package
Miss-communication with the Retailer: 2 weeks before the launch date, you delivered the first inventories to the Retailer, and then, you receive a message that there was something wrong, either amount of inventories, or store displays you prepared, or packaging, something like that. You may only be able to apologize
Delay after delay: 6 weeks before the launch, you start experiencing delays – your staff forgot to confirm orders for a few days, components arrived a few days late, the system production got delayed by a few days, because of the delays, the packager got a conflict,…. The magnitude of chaos increases over time
Even a big company experiences these mishaps. Unfortunately, only way to avoid these mishaps is the ultimate planning, coordination and attention to details in executing the launch.
Many startup companies get into a reactionary mode when it comes to the launch, and lose its control over details. Often, they do not realize how easily one event could complicate the launch through chain reactions.
You need to become an ultimate project manager. You need to put together and share a thorough project plan with your team, including your suppliers and the customer. Everyone needs to know how each step relates with each other. Even if people hate you, you have to chase after every detail to make sure it happens at the right timing in the right manner.

Final Summary
It is going to be a great moment for you as an entrepreneur to see your product on the mass retail shelves, after the months of efforts. Your success is never based on luck, but based on thorough executions of what is required. Some people may do it with a natural talent as if they were lucky, but still most of them follow the same path. From the moment of coming up with a product idea to getting it distributed by the nation-wide mass retailers is going to be a long journey that requires a strategic focus and excellent execution.
Here is the list of all my Six Tips for Getting Your Product into the Mass Retail Channel. I hope you have enjoyed the first part of your journey - learning. Now it is time for earning.
Tip 1: Know the Mass Retail Channel
Tip 2: Know Your Key Performance Indicators to Get Into Mass Retailers
Tip 3: Create Momentum Before Knocking on the Retailer's Door
Tip 4: How to Approach the Mass Retailer Buyer—Be Ready & Quick
Tip 5: Product Packaging Tips for Success in the Mass Retailer Channel
Tip 6: End-to-end launch planning is the last challenge to get your product into mass retailers
See more practical business tips.