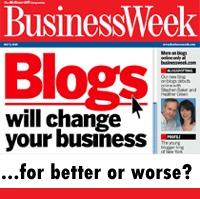 Blogging can be a wonderful marketing tool if you're trying to build your personal brand as a lawyer, consultant, or other independent service provider. However, for promoting services and products as a business concern, I think using a blog is not only insufficient but also inefficient. (I love to blog, so it's hard for me to say this! Please tell me I'm wrong.)
Publishing a Blog versus a Website
For the newcomer to the small business world, the thought of setting up a website may feel daunting. As such, the newcomer may be tempted to start a blog instead, due to its ease of setup and the word that blogs can help you get noticed on search engines such as Google.

However, if I had to choose between a blog and website for my small business, I'd go with a standard website, driven by static HTML pages, a database, or a content management system (CMS). Websites simply provide more robustness and flexibility than blogs for communicating your business value proposition. Information is not forced into strict templates or set priority listings. Plus, you can integrate a shopping cart, FAQ, forum, and other modules.
Blog and Branding: Oil and Water
The nature of blogging is counter intuitive to the nature of product marketing. In blogging, you have to come up with new interesting stories and messages on a regular basis, listed in reverse chronological order, or other standardized ranking. In product marketing, on the other hand, you want a single-minded marketing message that's on target" and delivers a consistent message that registers into the subconscious mind of the consumer. Using a blog that has a new message each day just doesn't make sense.
For example, imagine blogging on P&G's most advertised product, Tide laundry detergent. How much can you talk about Tide every day? What else do you want to say beyond "A powerful clean that won't wear out your clothes"? Sure, you could talk about how to get rid of stains, how to get soft fabrics, etc. However, perhaps all you need is a once-a-month email newsletter, or a FAQ section in your website that's updated twice a year.
Cost / Benefit of Having a Blog
Yet, some would still argue today that you need a blog to improve SEO for your website, build marketing hype, and have "conversations" with your customers. Surely, these are worthy benefits. However, they come at a huge cost to your small business, called time.
Trying to get your blog noticed takes significant upfront and consistent effort. Believe me, just ask any blogger about how hard this is. Unless you enjoy writing, I honestly believe your time would be better spent on talking your customers, seeking lower cost suppliers, and optimizing your current website and marketing materials.
Just a couple years ago, when blogging first became a hot topic, every company was jumping in to set up a blog. The media, including Business Week (May 2005), hyped up blogs, stating that companies can not attract consumers or maintain loyal customers without a blog. Today, how many companies do you know maintain both a website and an active blog, let alone one that actually generates more sales?
Nothing is Black and White
Now, of course, there are some niche business models where having a blog in addition to a website might make sense. If you have a website selling electronic hobby kits, for example, you might justify maintaining a blog to provides tips and new ideas that hobbyists can try with their kits. This creates greater value for your kits and the potential for incremental sales, especially from repeat customers who may want to buy add-ons for their kits. Again, however, do this if you feel the incremental sales from the blog justifies the incremental time needed to maintain the blog.
Personal blogging is bigger today than ever, but it still doesn't mean that your small business needs a blog. In general, your first bet should be to go with a traditional website by picking up a WYSIWYG HTML editor, learning code, or hiring a web developer. Only after that and some careful thinking should you flirt with the idea of adding a blog. Wouldn't you agree?
See more practical business tips.