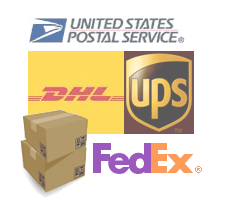 If you're starting a business that sells a physical product, chances are you'll need to decide if you will ship via UPS, Fedex, DHL, or your local postal service such the United States Postal Service (USPS). Should you offer all four major services on your website and then let the customer decide? Or should just pick the service with the lowest rate? Actually, the answer is not that simple.
In running my own online catalog business, I discovered some nitty-gritty details that I think can help you decide the shipping service you offer to your customers.
Can't I just offer all major services on my website?
This is a fair question. The answer is yes, of course, you can. However, this often results in higher cost, which ultimately passes down as higher shipping charges to your customer. Customers don't like that. In fact, most studies attribute high shipping charges as a primary reason why prospective customers abandon shopping carts when visiting an online store.
Instead, if you choose one primary service and possibly one secondary service, you can simplify your overall processes, and more importantly, negotiate lower rates with your primary shipping service. For example, I successfully negotiated at 20% discount on UPS shipping costs by providing them more volume business.
Just as important, as you will read below, the four major shipping services differ from one another in significant ways.
Rates and level of service are not consistent
Rates differ depending on the shipping origination and destination, so you need to do your own comparison. Here's what I found, assuming shipping from Seattle, WA. Within the United States, Fedex and UPS offer comparable standard (non-negotiated) rates, while German-owned DHL is actually sometimes cheaper. However, Fedex and UPS offer a specified guaranteed delivery date and full tracking details, while DHL only offers basic tracking information.
Internationally, I've found non-negotiated UPS rates cheaper than DHL rates for shipping to Asia Pacific destinations, but more expensive to continental Europe. Does Fedex beat UPS and DHL rates? Sometimes yes and sometimes no. It all depends on the region and country.
USPS stands as the anomaly, offering rates on small packages and air shipments of about one half of that offered by FedEx and UPS. However, USPS offers provides only limited tracking information, and getting refunds for lost or damaged goods is like pulling teeth.
Shipping software tools are not all created equal
When you have to prepare 5, 10, 100 labels a day, let me tell you, software matters. Both UPS and FedEx offer online and desktop shipping tools, while DHL offers only an online version. USPS offers full online services but its desktop version cannot be used to print prepaid shipping labels.
I find it handy to have a desktop option available, since I can still print labels (and hence ship products) even when the internet connection is down. All four carriers provide adequate tools for domestic shipments, but international tools vary. Overall, I find UPS Worldship by far the most robust and reliable. FedEx software has been surprisingly cumbersome and unreliable.
Integration with Your Accounting Software
Imaging filling your customer order, and print shipping and packing labels with just one simple click. That's called integrating your shipping software tools with your account and customer order management system, which for many starting businesses means Quickbooks software.
A standalone copy of Quickbooks integrates at a basic functional level with UPS and FedEx. With Quicbooks third-party plug-ins such as ShipRush or ShipGear, advanced integration with UPS and FedEx is seemless. Quickbooks does not offer out-of-the-box integration with DHL and USPS.
Daily Pickup and Drop-off Locations
You should consider the availability of daily pickup service and drop-off locations when choosing your shipping service. For a small fee, UPS, FedEx, DHL, can provide daily pickup service with almost immediate tracking once the package is received from your warehouse or door step, if your a home business.USPS pickup packages daily and for free through your mail delivery person for free, but tracking may not be available for more than 24 hours.
Unlike the other three carriers, USPS does not allow you to negotiate an estimated pick up time, which I consider an important factor. Knowing you've set a pickup time for 4pm everyday with UPS, for example, helps you decide whether or not you can promise same-day shipping to customer who places at 3:30pm.
What if you've missed your pick up time or cannot be available when the driver arrives? That's where knowing the availability of authorized drop-off centers comes in. UPS and FedEx provide a number of drop-off boxes, and also have their own authorized centers. In addition, UPS conveniently provides drop-off at their large number of UPS Stores, Staples, and other authorized centers. FedEx has the same, but through their FedEx Kinko's stores. DHL has limited authorized drop-off centers, and the USPS accepts packages at the post office or retail postal services branch such as Mail Boxes Etc.
The Bottom Line
Sure, for shipping your very first package to your first customer, it probably doesn't matter a whole lot if you go with UPS, Fedex, DHL, or USPS. However, as your business matures, you'll find choosing one main shipping service and possibly one secondary service will not only make it easier to provide your customers with the best service, but also save you time and money. A penny saved is a penny earned, and for a small business, every cent counts.
See more practical business tips.