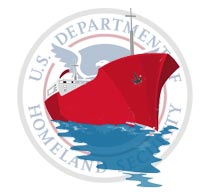 Not worry? Say, what? The U.S. Customs and Border Protection, or CBP, an agency of the Department of Homeland Security, establishes the main requirements for businesses and individuals to import goods into the US. As scary as this sounds, realize that the actual process you need to follow is quite simple. With a tiny bit of homework on your part, you'll quickly see there's nothing to worry about.
For the most part, your freight forwarder or courier (UPS, FedEx, DHL, etc) can serve as your broker to help you handle the customs process. So all you really need to do is provide them information, such as your contact information, tax identification number, product description, product category, and value, and they will handle it from there.
Here's your homework. Prior to contacting your freight forwarder or courier, you should read and understand the customs requirements set by the CBP. Remember that you, not your broker nor supplier, are ultimately responsible for compliance, and thus liable for noncompliance. You'll want to know if your product has certain import restrictions due to product type, country of origin, hazard, intellectual property, etc. If, for example, you are importing produce, arms, and drugs, you just might raise a few red flags, as you might guess. The CBP has a full list of restrictions. You'll also want to know the duty rate, if any, for your category of imported goods, since you'll need to pay it in order to receive your goods.
None of this is hard to do. Simply pick up your phone and call your freight forwarder, the CBP, or the US Trade Commission. Or, for the self-starter you are, check out the CBP website, which provides a number of documents that details the requirements.
Here's a quick snapshot of the customs requirements taken from the CBP brochure aptly titled "US Import Requirements" (with my edits and annotations). The brochure can be downloaded in full on the CBP publications webpage.

All merchandise coming into the United States must clear Customs and is subject to a Customs duty unless specifically exempted by law.

The U.S. Customs Service does not require an importer to have a license or permit, but other agencies, i.e. FDA, may require them depending on what is being imported.

The importer must declare the dutiable value of merchandise, but the final appraisal is fixed by Customs.

The importer must determine the classification number of the merchandise being imported. You can find these classification (also called a Harmonized Tariff Schedule number from the United States Trade Commission website.

The importer must pay estimated duties and processing fees if applicable. Customs makes the final determination of the correct rate of duty. The duty rate of an item is tied to its classification number. Many products do not have any duty.

For certain shipments (usually over $2000) called a "formal entry", the importer may have to post a surety bond. A bond is like an insurance policy that is payable to Customs in the event that the importer does not comply with import requirements. Having a bond on file, allows an importer to take possession of his merchandise before the payment of duties, taxes and fees. Your freight forwarder or courier can guide you on obtaining the bond, if necessary.
If you have any questions, your freight forwarder, UPS, FedEx, DHL, or any of the organizations listed at the end of this article can provide you well-informed answers. The longest I ever had to wait to speak to a representative on the phone was five minutes. From my experience, service from all of the organizations listed has been helpful and fast.
In a nutshell, the process of importing good is rather easy. First, look up your harmonized tariff number (HTS) for the your product category. With that information, find out if there are any restrictions and duty on the products in that category. Finally, choose your shipping service and provide them the detailed shipment information. After that, sit back and let your shipping service handle the rest for you.
Useful links and contact information